Presenting unique gifts to our special ones on different occasions has always been a very remarkable thing in our lives. If the present list is long, you need to consider your budget when giving gifts, or you may end up broke showing your emotion. Well then, cut your worry because here we will give you a great number of gifts under $50 full of stunning presents that you would love to give your family and friends!
What Are Good Gift Ideas
Expensive alone can't make a good gift. The gift is only considered good if the sender conveys his or her loving feeling and thoughts in it. That is why personalized gifts will be the greatest gift ideas under $50 that you can get for your special ones that meet all the criteria of a good gift. Who would not expect a gift that is specially made for them, right?
The 5 Amazing Gifts Under $50 to Give!
If you are looking for the best gifts for under $50, whereas it is your friends, your besties, your mom, your daughter, your sister, or your grandmother, check out this list to find out our top suggested gifts under $50:
1. Personalized Mugs With Quotes And Names
Your best friend can be as close to you as a family member, or sometimes even closer. In fact, they can be like a family of choice. For this reason, friendship is definitely something to cherish and appreciate.
If you have besties living far away, personalized mug is among the best gifts for them that you can find. With the lovely quote, showing distance is not a big deal as long as sisters love each other, this gift will be a reminder of how strong your friendship bonds are.
2. Personalized Tumblers
Same as personalized mugs, tumblers are also a great way to show your friendship of how important the others are. Plus tumblers can keep the drink hot so that it can warm your relationship during the coming cold winter! Also you can check great Christmas tumblers from Thesunnyzone.
3. Personalized
 P

illows 

Everyone has some pillows at their place - they help us relax after a long day, forget about worries, and fall asleep comfortably. Decorative pillows can also improve your home interior, making it look more beautiful and cozy. In our online store, a pillow can be personalized, so it will make a great gift for someone close to your heart. Let us tell you more about our pillow gifts!
4. Personalized Ornaments
Christmas is coming and it will alwyas be a great idea to offer holiday related gifts. Ornament cards are small, light and shining that can be put everywhere in the house. Plus you can choose the content yourselves to fit your house like dog lover/ cat lover/ Christmas/ perfect neighbour, etc. Light up the Christmas tree with these heart-warming personalized ornaments, which can be found no where but here at Thesunnyzone!
5. Personalized Backyard Collection
We're all spending way more time at home these days, so it's more important than ever to make our backyards welcoming and special. We need to make the most of those precious few warm weather months! Any backyard can be made a little cozier with our best decor items for making your space more beautiful, useful and fun.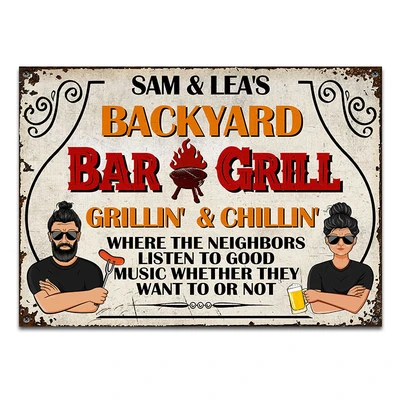 So these are 5 amazing gifts to give for only under $50 bucks. Do you think they worth it? 
Anyway, Our best friend gifts will help you to express how much your mate means to you. As they are custom-made, you can modify them as you want and create a perfect present that will really move someone you care about. Such gifts can be excellent for a birthday, Christmas, Hanukkah, Eid, or another occasion because they won't be generic, but quite the opposite - they will be unique!
What's your best gift list under $50? You can leave a meesage to our mail box or comment at our instagram or facebook fanpage.